*Okay, I've tried to finish this a bajillion times. I am going to rushrushrush while the boys are at the beach. Hurry!*
Monday night we left the bean with the grandparents and headed out on a fabulous date of dinner and a show by the most fabulous Kimya Dawson, who just happened to be playing in Ft. Meyers while we are down here. The show was sold out super quick but she was nice enough to make sure we could get in on the list. Unfortunately, the bridge to Ft. Meyers was closed and we got hopelessly lost and ended up at a grody Steak and Shake for dinner, since we were hungry and frustrated and couldn't find anything better with a half hour until doors opened. Fortunately, the show was so awesome that we didn't care about our bellies showing their disapproval of our dining choice.
Angelo Spencer started off the show as a strange and interesting one man band. He reminded me so much of my old friend Alex Goldman that all I could think of was that time Alex prerecorded all the parts to his whole album onto a little keyboard thing and then pushed the buttons with his toes while playing guitar and singing at a house party forever ago. I miss me some Alex Goldman. I hear he is a fancy DJ in the city now. Anyway. We both loved it.
After he was done there was a little lull and Kyle said he could see Kimya's hair at the merch table through a crack in the door, so I decided to go say hi.
[I just have to insert here that as I am typing this I can hear Henry crying and wailing "Nooooooo! I don't WANT to have FUUUUUUUUUUN" outside on the porch. Weirdo.]
I was really nervous meeting her because I just like her so much. I said a bunch of idiotic things, I'm sure, and she was sweet and gave me a tee shirt for Henry (which he is wearing right now) and said SHE was starstruck meeting ME- so bizarroland. Panda was running around the lobby and is pretty much the cutest little person on the planet. The table was getting backed up at this point with people actually wanting to give Kimya money and stuff (CDs and shirts and whatnot) so I got out of the way and went back to find Kyle.
I forgot to mention that this show was at the Fort Meyers Planetarium. So while people were playing there was a constant changing background of stars and planets and ateroids and sea monsters and things on the planetarium dome. Surreal and wonderful.
The second guy to play was Paul Berabeau (which I probably mangled, spelling wise. I am horrible with names and can only remember the last part because they were talking about being un-Berabeau but you get the gist). He was sad and funny and sweet and we loved him.
Kimya was amazing, of course. It was a nice, small venue and the planetarium was the perfect place to see her. She actually dedicated a song called "Little Monster Babies" (from the forthcoming kids' album
Alphabutt
-I can't wait!) to me and Kyle was suitably impressed with my vast coolness. I chatted with Kimya a bit after the show, but she has a line of hipster kids a mile long, all wanting a bit of her time and an exhausted Panda in her arms, so I tried not to ramble and let her go. Not before snapping a picture, though...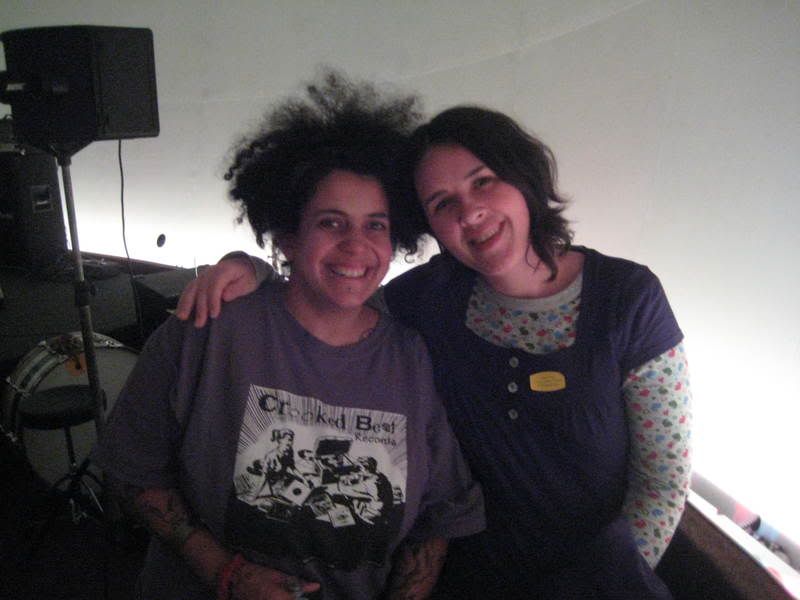 And Henry modeling the awesome tee shirt Kimya gave him.
I have a million other things I should blog about but this is reeeeaally long and I managed to finish it, and you managed to finish reading it so let's quit while we're ahead, shall we?